Transportation Center
77 Flat Street, Suite 101 (First Floor)
Brattleboro, VT 05301
Hours of Operation

Monday: 8:30 am - 4:30 pm
Tuesday: 8:30 am - 4:30 pm
Wednesday: 8:30 am - 4:30 pm
Thursday: 8:30 am - 4:30 pm
Friday: 8:30 am - 4:30 pm
Saturday: Closed
Sunday: Closed
Parking
Parking meters in the Town of Brattleboro are in effect Monday through Saturday from 9 a.m. to 6 p.m.
To view the parking map, click here or on the image below: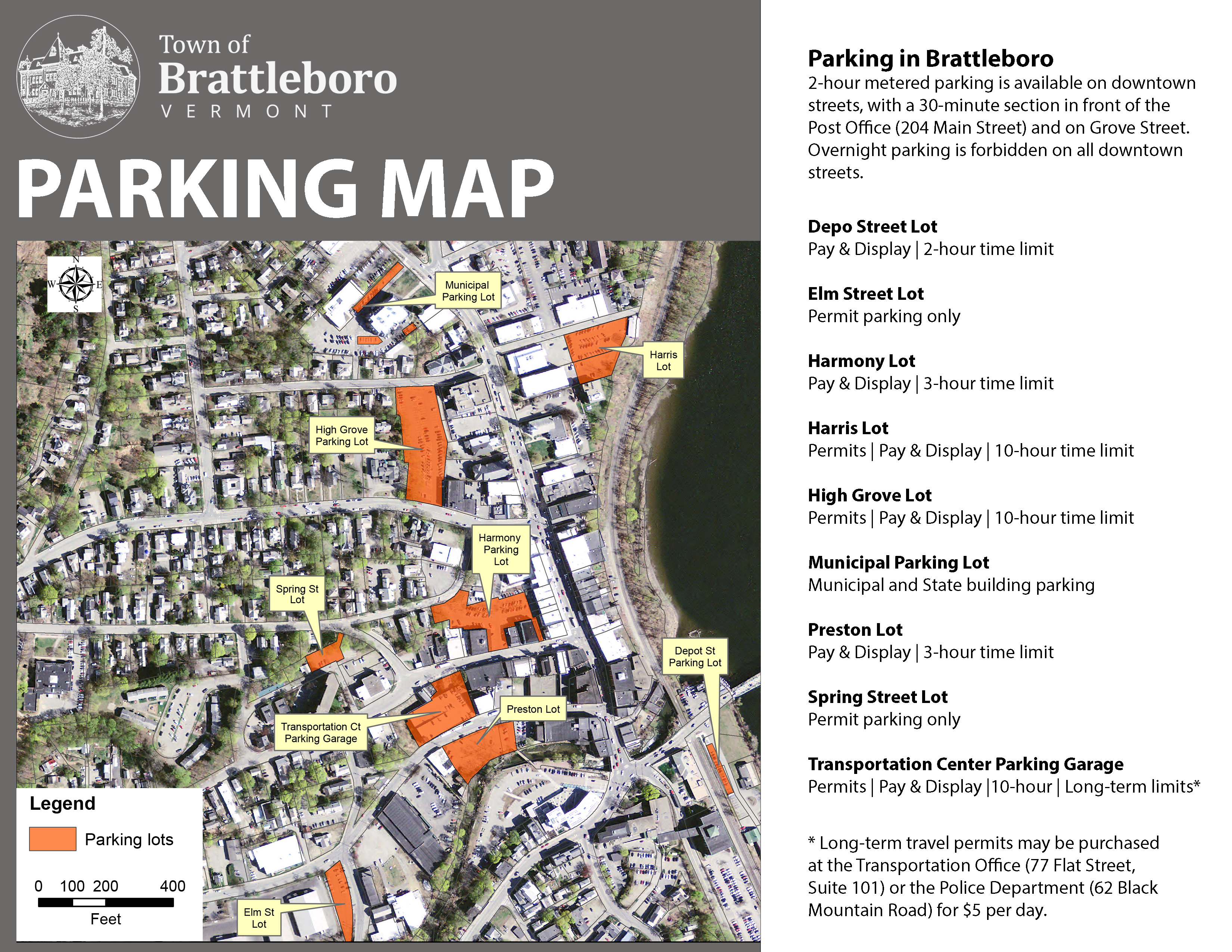 Parking Rates

Metered spaces
On-Street, Single-Space Parking Meters - $1 per hour, 2-hour limit
Used on Main Street, Elliot Street, High Street, Grove Street, Park Place, Church Street, and Flat Street
30-Minute Metered Spaces - 35¢ per 30 minutes, 30-minute limit
Used on Grove Street (3), on Main Street (4) in front of the Post Office, and in the southeast corner of the High Grove (3) Parking Lot.
Pay & Display Lots
Depot Street Parking Lot - $1 per hour, 2-hour limit
Harmony Parking Lot - $1 per hour, 3-hour limit
Preston Parking Lot - 70¢ per hour, 3-hour limit
Harris Parking Lot, High Grove Parking Lot, and the Brattleboro Transportation Center - 40¢ per hour, 10-hour limit
Free Parking
Parking is free on Sundays and during most Town-observed holidays.
Parking is free on the following Town-observed holidays:
New Year's Day
Martin Luther King Jr. Day
Presidents' Day
Memorial Day
Juneteenth
Independence Day
Labor Day
Indigenous Peoples' Day
Veteran's Day
Thanksgiving Day
The Friday after Thanksgiving
Christmas Day
Travel Permits
Need a place to park while you're traveling? The Parking Department sells permits for those who are taking a train or leaving their car in Brattleboro for an extended period of time. The permit is valid only in the parking garage. Travel permits are $5 per day. There is no charge for Sundays or holidays.
Permits can be purchased at the Parking Office, which is on the ground floor of the Transportation Center, Monday through Friday from 8:30 a.m. to 4:30 p.m. During off-hours, the permit may be purchased at the Police Station.
How to Use the Smart Meter
Staff
Carol Coulombe -
Parking Enforcement

Cheryl Duggan -
Parking Enforcement Officer

Keagan Jameson -
Parking Enforcement Officer
Parking Enforcement
News & Annoucements